Barbara Bush's funeral draws 1,500 people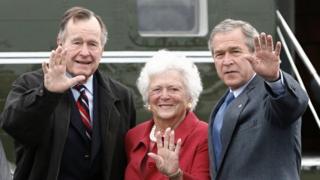 The funeral of former first lady Barbara Bush is about to begin, with an estimated 1,500 mourners in attendance.
Mrs Bush was the matriarch of a political dynasty that included two presidents - her husband George HW Bush and her son George W Bush.
Past presidents, pizzeria owners and historians are among those invited to the private service at St Martin's Episcopal Church in Houston, Texas.
Mrs Bush, a literacy campaigner, died in her home on Wednesday, aged 92.
The first lady from 1989 to 1993 had been in failing health for some time and had declined further medical treatment.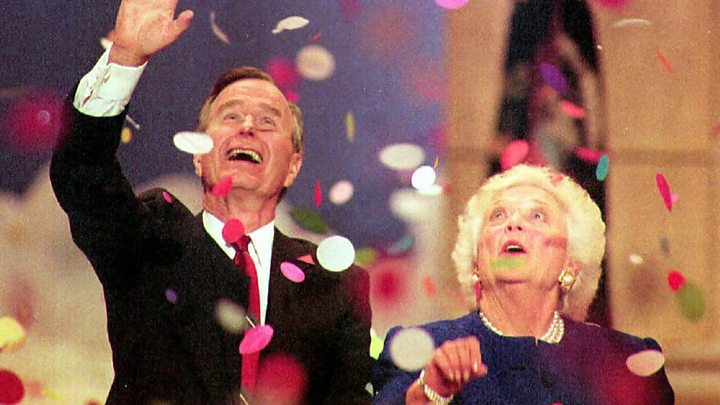 Her son Jeb Bush, Florida's ex-governor and a 2016 presidential candidate, is to deliver a eulogy at the church where his parents have been members since the 1950s.
Current First Lady Melania Trump will be attending the invitation-only event without US President Donald Trump.
He said in a statement on Friday that his absence was "to avoid disruptions due to added security, and out of respect for the Bush Family".
The US president has had a difficult relationship with the Bushes, most significantly in his run against Jeb Bush for the Republican presidential nomination in 2016.
Mrs Bush reportedly described Mr Trump at the time as a "showman" and wondered how women could vote for him.
Other high profile attendees include former Presidents Barack Obama and Bill Clinton, former Secretary of State Hillary Clinton and former first lady Michelle Obama.
High-ranking officials from both the elder and younger Bushs' administrations will also be there, including Vice Presidents Dan Quayle and Dick Cheney.
However, former President Jimmy Carter is overseas and cannot attend, while his wife Rosalynn is recovering from surgery.
Security has been tight ahead the funeral service, which was scheduled to start at 11:00 local time (16:00 GMT), with secret service agents standing watch over Mrs Bush's coffin, and bomb-sniffing dogs checking media equipment.
Following the ceremony, Mrs Bush will be buried on the grounds of the George HW Bush Library and Museum at Texas A&M University in College Station, next to her daughter, Robin, who died of leukaemia, aged 3.
Tributes for "America's grandmother", as she was dubbed, have poured in from across the globe, with many praising her work in adult literacy.
Mrs Bush, née Pierce, was married to her husband for 73 years. She was known for having a sharp tongue and for her fierce devotion to her family, and she enjoyed broad public popularity during her time in the White House.
Source :
www.bbc.co.uk