Bloomberg campaign pays influencers for memes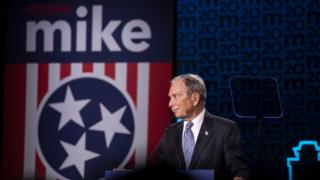 Democratic presidential candidate Mike Bloomberg is paying social media influencers to back him in the hope of reaching younger voters.
His campaign has commissioned some of the internet's top-viral creators to generate content about him that has reached tens of millions of followers.
The former New York Mayor's campaign director said its meme strategy was new to presidential politics.
He has spent more than $300m in his bid to win the White House in November.
Sabrina Singh, Mr Bloomberg's national spokeswoman, said: "Mike Bloomberg 2020 has teamed up with social creators to collaborate with the campaign, including the meme world.
"While a meme strategy may be new to presidential politics, we're betting it will be an effective component to reach people where they are and compete with President Trump's powerful digital operation."
What are the posts saying?
The campaign has been working with Meme 2020, a company that represents some of the biggest social media accounts in the so-called influencer economy.
@GrapeJuiceBoys - an account that often posts memes about black culture and has 2.7m followers - confirmed to the BBC it had produced paid content for the Bloomberg campaign, but said it did not personally endorse the candidate.
Posts about Mr Bloomberg have also appeared in @Tank.Sinatra (2.3m followers) and the account run by Jerry Media (14.9m followers), as well as several others.
The ads all show that they were paid for by the Bloomberg campaign, a disclaimer required under the US Federal Election Commission's rules on paid online political posts.
Meanwhile, a post on Tribe - an online marketplace that connects "micro-influencers" (those with 1,000 to 100,000 followers) to brands - is advertising a $150 payment for posts supporting Mr Bloomberg.