BP boss plans to 'reinvent' oil giant for green era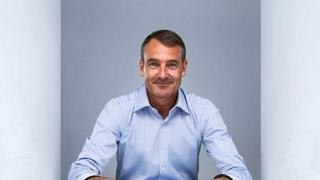 New BP boss Bernard Looney has said he wants the company to sharply cut net carbon emissions by 2050 or sooner.
Mr Looney said the 111-year-old company needed to "reinvent" itself, a strategy that will eventually include more investment in alternative energy.
BP will have to fundamentally reorganise itself to help make those changes, said Mr Looney, who took over as chief executive last week.
It follows similar moves by rivals, including Royal Dutch Shell and Total.
Mr Looney said: "The world's carbon budget is finite and running out fast; we need a rapid transition to net zero.
"Trillions of dollars will need to be invested in replumbing and rewiring the world's energy system."
"This will certainly be a challenge, but also a tremendous opportunity. It is clear to me, and to our stakeholders, that for BP to play our part and serve our purpose, we have to change. And we want to change - this is the right thing for the world and for BP."
He outlined his plans in a keynote speech on Wednesday.
"Providing the world with clean, reliable affordable energy will require nothing less than reimagining energy, and today that becomes BP's new purpose," he said. "Reimagining energy for people and our planet."
On Instagram, which Mr Looney recently signed up to, he said "Rest assured - a lot of time - and listening - has gone into this."
"All of the anxiety and frustration of the world at the pace of change is a big deal. I want you to know we are listening. Both as a company - and myself as an individual."