Cyclone Bulbul roars into the Bay of Bengal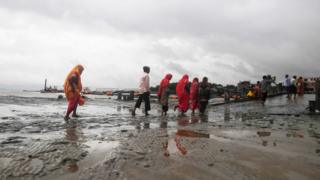 Almost half a million people in India and Bangladesh are being evacuated as Cyclone Bulbul hits the Bay of Bengal.
The storm made landfall at midnight local time (18:30 GMT) near Sagar Island in Indian West Bengal, and is expected to unleash surges as high as 7ft (2m).
Two people have already been killed by the cyclone, local media report.
Many seaports and airports in the region have also been closed - including the busy Kolkata airport.
Mamata Banerjee, Chief Minister for West Bengal, tweeted before the cyclone made landfall urging people to stay calm.
"Please do not panic," she wrote. "Kindly remain calm and co-operate with the administration in its rescue and relief efforts. Be alert, take care and stay safe."
Forecasters expect the storm to move north and weaken gradually.
It is set to reach wind speeds of up to 120km/h (75mph), with gusts of 150km/h, and create tidal surges in the sea and rivers when it hits the coastal regions, says the Bangladesh Meteorological Department.
Along its predicted path is the Sundarbans, the world's largest mangrove forest and home to the endangered Bengal tigers.
More than 60,000 people were moved away from the north-eastern coast of India, while the Bangladeshi government said it had evacuated 400,000.
But the closure of transport hubs has left thousands of other people stranded on islands off the coast, including St Martin's Island in Bangladesh.
Indian authorities said military ships and planes have been put on standby to assist with emergencies.
Bangladesh's low-lying coast is often hit by deadly cyclones, but the country has successfully reduced the number of casualties in recent years.
Early cyclone warning systems have improved, giving authorities more time to evacuate people. More Cyclone shelters have also been constructed to protect local residents.
Source :
www.bbc.co.uk