'Eight killed' in Texas school shooting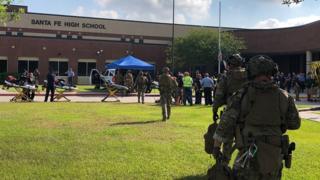 Up to eight people have been reported dead in a shooting at a Texas high school, which is on lockdown.
One person is in custody after the attack at the Santa Fe High School, about 40 miles (65 km) south of Houston, according to school officials.
The school district has confirmed people were injured in an "active shooter" incident as classes began.
It is unclear if the attacker was a student. Police have not yet confirmed any fatalities.
News helicopters filmed students emptying their backpacks in front of armed officers in a field outside the school.
Local media are reporting the shooting began as the fire alarm went off. It is not clear how the alarm was activated.
One 10th grader told networks she had an asthma attack while hiding in the woods.
A bomb squad is currently on scene, and several helicopter ambulances have flown victims to a nearby hospital.
The sheriff of Harris County, the largest county in Texas, tweeted that his officers were responding to a "multiple-casualty incident".
Sheriff Ed Gonzalez tweeted that one person is in custody and "a second one detained".
"An injured police officer is being treated, the extent of his injuries are unknown," he wrote.
Federal officials with the Bureau of Alcohol, Tobacco, Firearms and Explosives (ATF) are also helping the investigation.
President Donald Trump tweeted: "School shooting in Texas. Early reports not looking good. God bless all!"
First Lady Melania Trump tweeted from her hospital bed: "My heart goes out of Santa Fe and all of Texas today."
Source :
www.bbc.co.uk